The story of Charles and Ray Eames
Charles Ormond Eames, Jr (1907–1978) and Bernice Alexandra "Ray" (née Kaiser) Eames (1912–1988) were American designers, who worked in and made major contributions to modern architecture and furniture. They also worked in the fields of industrial and graphic design, fine art and film.

Ray-Bernice Alexandra Kaiser Eames (December 15, 1912 – August 21, 1988) was an American artist, designer, and filmmaker who, together with her husband Charles, is responsible for many classic, iconic designs of the 20th century. She was born in Sacramento, California to Alexander and Edna Burr Kaiser, and had a brother named Maurice. Charles Eames, Jr (June 17, 1907 – August 21, 1978) was born in St. Louis, Missouri. Charles was the nephew of St. Louis architect William S. Eames.

Charles and Ray Eames are among the most important American designers of this century. They are best known for their groundbreaking contributions to architecture, furniture design (e.g., the Eames Chair), industrial design and manufacturing, and the photographic arts.
Charles and Ray married in 1941 and moved to California where they continued their furniture design work with molding plywood. During the war they were commissioned by the Navy to produce molded plywood splints, stretchers and experimental glider shells. In 1946, Evans Products began producing the Eameses' molded plywood furniture. Their molded plywood chair was called "the chair of the century" by the influential architectural critic Esther McCoy.

Charles and Ray Eames products:

· Eames Lounge and Ottoman
· Eames Molded Plastic Dowel-Leg Side Chair (DSW)
· Eames Molded Plywood Lounge Chair, LCW
· Eames Aluminum Management Chair
· Eames Soft Pad Management Chair
· Eames Walnut Stool
· Eames Molded Plywood Coffee Table
· Eames Elliptical Table
· Eames Molded Plastic Rocker
· Eames Round Table
· Eames La Chaise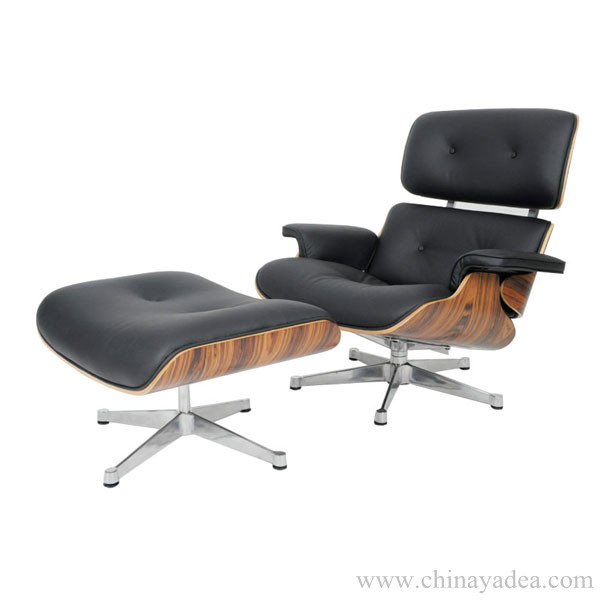 The Charles and Ray Eames was designed so many popular chairs sofas and tables.

As the most important exponents of organic design, Charles and Ray Eames demonstrated how good design can improve quality of life and human understanding and knowledge.
Keywords in the article:
Charles and Ray Eames,Eames Lounge and Ottoman,Eames Aluminum Chair,Eames
Information about ""