Product category
le corbusier lc2 sofa 3 seater-Red Leather CF009
Hotline: 0086-13510313799
Fax: +86-0755-82041709
Description:This le corbusier lc2 3-seat sofa is a high quality reproduction of one of the most iconic and best selling sofa sets of the 20th century. Le corbusier lc2 sofa 3 seater, back and side all panels are upholstered in 100% genuine top grain premium soft aniline leather or Italian leather. Polished stainless steel frame and legs. Thick seat and back cushions made of multi density foam for ultimate comfort. The le corbusier lc2 sofa 3 seater is available with two seat sofa and arm
Le Corbusier LC2 Sofa 3 Seater CF009
Product Parameters:
Item: CF009
Dimensions(cm):

180(W)*70(D)*67(H)

Designer: Le Corbusier
Colors available: Light &

dark brown, Black, Red, White, Beige, Cream

Lead time: 15~25 days

Inquiry Now:

yadeaweb@gmail.com
Product Description:
---
1. The inspired LC2 Sofa by Le Corbusier remains one of the most recognized pieces of furniture of the modern design. This le corbusier lc2 3-seat sofa is a high quality reproduction of one of the most iconic and best selling sofa sets of the 20th century.
2. Le corbusier lc2 sofa 3 seater, back and side all panels are upholstered in 100% genuine top grain premium soft aniline leather or Italian leather.
3. Polished stainless steel frame and legs.
4. Thick seat and back cushions made of multi density foam for ultimate comfort.
5. Reinforced lower spring tension nylon system supports seat cushions for firm, long-lasting comfort.
6. Multi-density, CA-117 compliant cushions wrapped in Dacron polyester batting.
7. Our le corbusier lc2 sofa 3 seater is premium reproduction. Two seat sofa and armchair available.
8. The le corbusier lc2 sofa 3 seater is available with a variety of choices to make it the perfect addition to your modern home.
9. Our prices are the competitive in the industry and our quality is one of the best. We use an independent quality control auditor to supervise the entire production process; ensuring every product is of the highest quality and has absolutely no imperfections.
• Fast delivery.
• Warranty / Guarantee: warranty for 2 years from the date of purchase.
• Good Customer Service.
Yadea's focus on quality does not end at the factory door - they believe that providing clients with exceptional service is just as important as manufacturing furniture. In order to make certain Yadea clients enjoy consistently high quality in all Yadea products, they have set up their own test center which monitors products against criteria that are far more stringent than the statutory standards.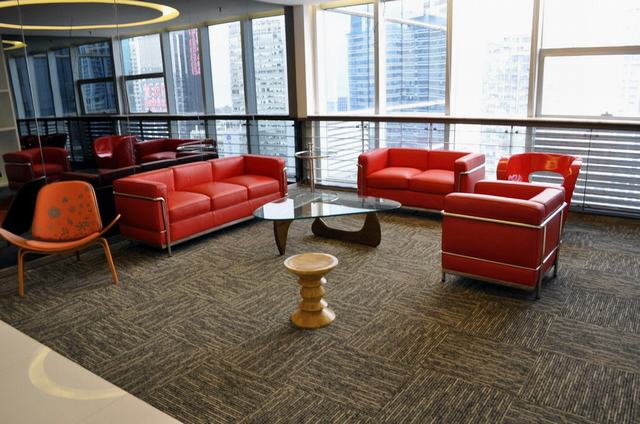 Designer:
---
Le Corbusier (1887-1965)
Le Corbusier was a Swiss-French architect, designer, urbanist, writer and also painter, who is famous for being one of the pioneers of what now is called Modern architecture or the International Style.
Chairs, sofas or tables - Le Corbusier, one of the "fathers" of 20th century modern architecture, understood furniture as "equipment". For him, it was not simply functional or only decorative: function and form would harmonize with the living space. The furniture offered here, faithfully based on the original designs, creates timeless elegant harmony in your own home.
In 1925, at the time when he conceived the Pavillon de l'Esprit Nouveau, Le Corbusier turned to the problem of furniture as part of home equipment. He said: "Chairs are architecture, sofas are bourgeois." Le Corbusier began experimenting with furniture design in 1928 after inviting the architect, Charlotte Perriand, to join his studio. His cousin, Pierre Jeanneret, also collaborated on many of the designs. He sketched several designs for furniture, and at the Salon d'Automne in 1929 presented, in collaboration with Pierre Jeanneret et Charlotte Perriand, several well-known models including the chaise lounge and the petite sofa and chair.
*

Indicated required field
Inquire: le corbusier lc2 sofa 3 seater-Red Leather CF009
*

First Name:

Please fill in your First Name

*

Last Name:

Please fill in your Last Name

Company name:

Please fill in your company name

Telephone number:
Mobile phone number:

Please fill in your telephone number

*

E-mail:

*

Country:
Address:

*

Inquire intention description: