Poul Kjaerholm PK20 Lounge Chair PV220
Hotline: 0086-13510313799
Tel:0086-755-82875007
Description:The Poul Kjaerholm PK20 Lounge Chair was originally designed in 1955 by Poul Kjaerholm. With its stunning aesthetics lounge chair PK20 epitomizes the work of Poul Kjaerholm, it's a comfortable and elegant lounge chair. Our Poul Kjaerholm PK20 Lounge Chair is a high quality reproduction in the style of the original design. Available in top-grain Italian leather or woven natural cane rattan with a stainless steel base. Our Poul Kjaerholm PK20 Lounge Chair sells with competitive
Poul Kjaerholm PK20 Lounge Chair PV220
Product Parameters:
Item: PV220
Dimensions(cm):

73(L)*74(W)*89(H)

Designer: Poul Kjaerholm

Colors available:

Lignt/Mid/Dark Brown, Whit, Black, Red, Ivory

Lead time: 15~25 days

Inquiry Now:

yadeaweb@gmail.com
Product Description:
---
1. The Poul Kjaerholm PK20 Lounge Chair was originally designed in 1955 by Poul Kjaerholm. With its stunning aesthetics lounge chair PK20 epitomizes the work of Poul Kjærholm, it's a comfortable and elegant lounge chair.
2. Our Poul Kjaerholm PK20 Lounge Chair is a high quality reproduction in the style of the original design.
3. Available in top-grain Italian leather or woven natural cane rattan with a stainless steel base.
4. Stainless steel frame.
5. It has a high back with a matching headrest and sits on a flexible.
6. High resiliency urethane foam pillow to provide both plush comfort and durability.
7. Supple and flexible, Poul Kjaerholm PK20 lounge Chair has a minimalist aesthetic making it an excellent choice for the home as well as commercial spaces.
8. This replica is true to the original design specifications. We use an independent quality control auditor to supervise the entire production process;ensuring every product is of the highest quality and has absolutely no imperfections.
• Fast delivery.
• Warranty / Guarantee: warranty for 2 years from the date of purchase.
• Good Customer Service.
Yadea's focus on quality does not end at the factory door - they believe that providing clients with exceptional service is just as important as manufacturing furniture. In order to make certain Yadea clients enjoy consistently high quality in all Yadea products, they have set up their own test center which monitors products against criteria that are far more stringent than the statutory standards.
Our Product Real Photos:
---
Reference scene pictures:
---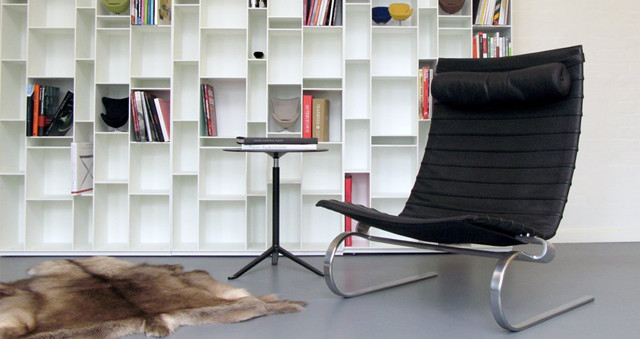 Designer:
---
Poul Kjærholm (January 8, 1929 – April 18, 1980) was a Danish designer.
Born in Øster Vrå, Denmark, Kjærholm began as a cabinetmaker's apprentice with Gronbech in 1948, going on to the Danish School of Arts and Crafts in Copenhagen in 1952. In 1953, he married Hanne Kjærholm who became a successful architect. He was very articulate and with his natural authority he started an outstanding career as an educator in the same year (1952) but continued to study with Prof. Erik Herløw and Prof. Palle Suenson.
Most of his furniture was initially produced by his friend E. Kold Christensen in Hellerup. Since 1982 a wide selection of those products have been produced by Republic of Fritz Hansen, a leading Danish furniture manufacturing firm. His designs are in the permanent collection of the Museum of Modern Art in New York, the Victoria and Albert Museum in London and other museum collections in Denmark, Norway, Sweden and Germany.
In 2004, Kjærholm's son established Kjærholm Productions to produce those items of his father's furniture that Fritz Hansen had discontinued production of in 2003.
Poul Kjærholm was employed at Fritz Hansen for about a year, where he designed a number of noteworthy chair prototypes.
In 1955 Poul Kjærholm initiated his collaboration with manufacturer Ejvind Kold Christensen, which lasted until Poul Kjærholm's death in 1980. In 1982, Fritz Hansen took over the production and sales of "The Kjærholm Collection", developed from 1951 to 1967, designs, which are logical to the minute detail with an aura of exclusivity. In 2007 Fritz Hansen added two new pieces to the Kjærholm Collection. Pieces that were never in production before, the PK8 side chair and PK58 dining table.
*

Indicated required field
Inquire: Poul Kjaerholm PK20 Lounge Chair PV220
*

First Name:

Please fill in your First Name

*

Last Name:

Please fill in your Last Name

Company name:

Please fill in your company name

Telephone number:
Mobile phone number:

Please fill in your telephone number

*

E-mail:

*

Country:
Address:

*

Inquire intention description: