Arne Jacobsen Egg Chair PV026
Hotline: 0086-13510313799
Tel:0086-755-82875007
Description:Fritz Hansen Furniture, Arne Jacobsen Egg Chair PV026 (Fritz Hansen Egg Chair) is available in a wide variety of fabric upholstery as well as leather; The Arne Jacobsen egg chair is ideal for lounge and waiting areas as well as the home; Arne Jacobsen Swan Chair is considered one of the most influential furniture of the last century. Buy online or find more furniture at China Yadea.
Arne Jacobsen Egg Chair PV026
Product Parameters:
Item: PV026
Dimensions(cm):

–1

(W90*74*107)–D(W58*D45*H41)

Designer: Arne Jacobsen
Colors available: Dark Brown, Black, Red, White, Tan, Cream, Luxe Camel
Lead time: 15~25 days

Inquiry Now:

yadeaweb@gmail.com
Product Description:
---
1. The Fritz Hansen Egg Chair was designed 1958 by Arne Jacobsen and developed for the lobby and reception areas at the Royal Hotel in Copenhagen in the late 50s.
2. The Arne Jacobsen Egg Chair replica is available in a wide variety of fabric upholstery as well as leather, always combined with a star shaped base in satin polished aluminium.
3. The satin polished aluminium 4 star base allows tilt and swivel with an automatic return. It is also available with a non-auto return.
4. The synthetic shell is padded with cold foam.
5. A strong foam inner shell underneath the upholstery.
6. The shell has an adjustable tilt fitting which can be adjusted to the weight of the individual user.
7. A matching footstool is also available.
8. More covers and colours are available on request.
9. his Arne Jacobsen egg chair has become synonymous with Danish furniture design throughout the world. Because of the unique shape the Arne Jacobsen egg chair guarantees a bit of privacy in otherwise public spaces and the Arne Jacobsen egg chair is ideal for lounge and waiting areas as well as the home.
10. Our Arne Jacobsen egg chair dimensions(cm): 90(W)*74(D)*107(H), Seat height: 40.5
• Fast delivery.
• Warranty / Guarantee: warranty for 2 years from the date of purchase.
• Good Customer Service.
Yadea's focus on quality does not end at the factory door - they believe that providing clients with exceptional service is just as important as manufacturing furniture. In order to make certain Yadea clients enjoy consistently high quality in all Yadea products, they have set up their own test center which monitors products against criteria that are far more stringent than the statutory standards.
Our Product Real Photos:
---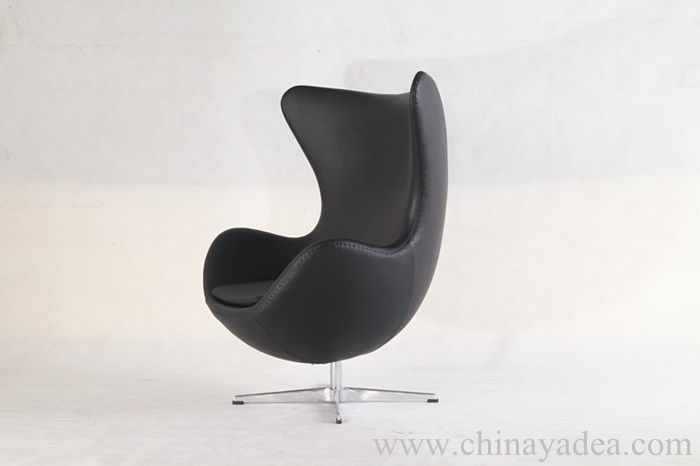 Refrence scence pictures:
---
Aniline leather Arne Jacobsen Egg Chair modern classic style
Jacobsen Egg Chair along with Arne Jacobsen Style Coffee Table CF815
The Arne Jacobsen Egg Chairs In Cashmere wool or Fabric
Designer:
---
Arne Jacobsen(1902-1971)
Arne Jacobsen(1902-1971) bought a plywood chair designed by Charles Eames and installed it in his own studio, where it inspired one of the most commercially successful chair models in modern classic furniture design history. The three-legged Ant chair (1951) sold in millions and is considered a classic works today. It consists of two simple elements: tubular steel legs and a springy seat and back formed out of a continuous piece of plywood in a range of vivid colors. Jacobsen began training as a mason before studying at the Royal Danish Academy of Arts, Copenhagen where he won a silver medal for a chair that was then exhibited at the 1925 Exposition Internationale des Art Decoratifs in Paris. Influenced by Le Corbusier, Gunnar Asplund and Ludwig Mies van der Rohe, Jacobsen embraced a functionalist approach from the outset. He was among the first to introduce modernist ideas to Denmark and create industrial furniture that built upon on its craft-based design heritage. First among Jacobsen's important architectural commissions was the Bellav ista housing project, Copenhagen (1930-1934). Best known and most fully integrated works, are the SAS Air Terminal and the Royal Hotel Copenhagen for which Jacobsen designed every detail from sculptural furnishings such as his elegant Swan and Egg chairs (1957-1958) to textiles, lighting, ashtrays and cutlery. During the 1960's, Jacobsen's most important work was a unified architectural and interior design scheme for St. Catherine's College, Oxford, which, like his earlier work for the Royal Hotel, involved the design of site-specific furniture. Jacobsen's work remains appealing and fresh today, combining free-form sculptural shapes with the traditional attributes of Scandinavian design, material and structural integrity.
*

Indicated required field
Inquire: Arne Jacobsen Egg Chair PV026
*

First Name:

Please fill in your First Name

*

Last Name:

Please fill in your Last Name

Company name:

Please fill in your company name

Telephone number:
Mobile phone number:

Please fill in your telephone number

*

E-mail:

*

Country:
Address:

*

Inquire intention description: