Modern furniture and designer furniture
Modern furniture and designer furniture refers to furniture produced from the late 19th century through the present that is influenced by modernism. It was a tremendous departure from all furniture design that had gone before it. Dark or gilded carved wood and richly patterned fabrics gave way to the glittering simplicity and geometry of polished metal. The forms of furniture evolved from visually heavy to visually light.

Iconic examples of modern furniture and designer furniture:

Marcel Breuer's Wassily Chair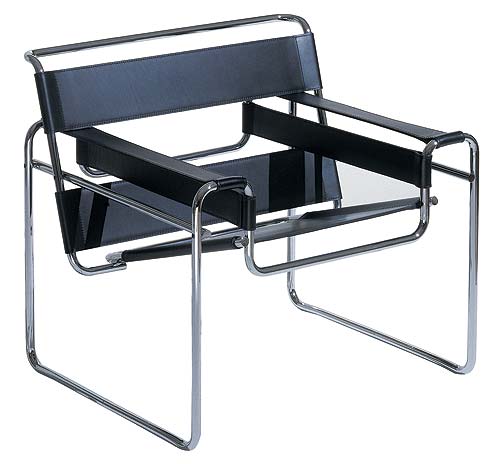 In spirit and stature, Marcel Breuer¡¯s Wassily Chair (1925) from Knoll has few equals. Believed to be the first bent tubular steel chair design, the Marcel Breuer's Wassily Chair distills the traditional club chair to a series of strong, spare lines, executed with dynamic material counterpoint. The gleaming chrome-finished tubular steel frame-inspired by the graceful, curving handlebars of the Adler bicycle¡ªis seamless in its assemblage. Thick cowhide leather slings create the design¡¯s seating surfaces, which maintain their crisp tautness for decades. Named for Wassily Kandinksy, the father of abstract painting and a colleague of Breuer¡¯s at the Bauhaus, the Marcel Breuer's Wassily Chair is a symbol of the industrial heroism and engineering invention of the early 20th century.

Eileen Gray side table


A famous side table based on a design by Eileen Gray. The adjustable side table is as functional and versatile as its designer.Our distinctive end table is inspired by the 1927 original, designed by Irish artist, furniture designer and architect Eileen Gray. The open base allows you to pull the table close, while the top can be adjusted to four different heights.

Barcelona chair and ottoman

A meticulous reproduction of the original Mies Van der Rohe Barcelona Chair and ottoman first introduced in 1929 at the International Exhibition in Barcelona Spain. The chair was used by Spanish Royalty at the German Pavilion in Barcelona, Spain. Not long after, the Barcelona Chair and ottoman became known as the chair for kings. Today it is recognized as an iconic modern classic design.

Noguchi coffee table
Isamu Noguchi 1904 - 1988 was a sculptor, architect, furniture and landscape designer. Half American, half Japanese, he is famous for his organic modern forms. The Noguchi table - has become famous for its unique and unmistakable simplicity. Refined and at the same time natural, it is one of the most sought after pieces associated with the modern classic furniture movement.
Today contemporary furniture designers and manufacturers continue to evolve design.The designs that prompted this paradigm shift were produced in the middle of the 20th century, most of them well before 1960. And yet they are still regarded internationally as symbols of the modern age, the present and perhaps even the future. Modern furniture and designer furniture became an icon of elegance and sophistication.
Keywords in the article:
Marcel Breuer's Wassily Chair,Modern furniture and designer furniture
Information about ""