Arne Jacobsen Egg Chair in Black Leather
Arne Jacobsen designed the Egg Chair for the lobby and reception areas in the Royal Hotel, in Copenhagen. The commission to design every element of the hotel building as well as the furniture was Arne Jacobsen's grand opportunity to put his theories of integrated design and architecture into practice. The Egg Chair is one of the triumphs of Arne Jacobsen's total design - a sculptural contrast to the building's almost exclusively vertical and horizontal surfaces. The Egg Chair sprang from a new technique, which Arne Jacobsen was the first to use; a strong foam inner shell underneath the upholstery. Like a sculptor, Arne Jacobsen strove to find the shell's perfect shape in clay at home in his own garage. The Fritz Hansen Egg Chair by Arne Jacobsen is considered by many to be one of the best furniture designs of the 20th century.
Shenzhen Yadea Furniture Co.,Ltd now provide you a Arne Jacobsen egg chair in black leather ,firstly you must to know that Shenzhen Yadea Co.,Ltd has more than 13 years old experience in manufacturing modern classic furniture ,and Arne Jacobsen egg chair is one of their best sellers .The covering of the Arne Jacobsen Egg Chair made of aniline leather or Italian leather ,of course many colors could be chose .The feet frame are made of polished stainless steel .So this Arne Jacobsen egg chair in black leather looks so beautiful and feels comfortable .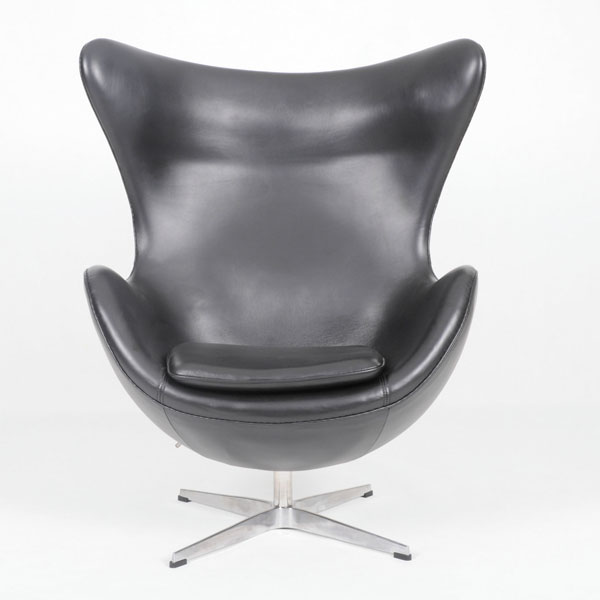 Keywords in the article:
egg chair,Arne Jacobsen,chair