2015 Hotsale furniture new pictures
Yadea Furniture 2015 hotsale furniture chairs and sofas exported worldwide include premium leather Barcelona chair, Eames lounge chair replica, LC2 sofa, Brno chair, Womb chair replica and Knoll sofa. 2015 hotsale furniture chairs and sofas pictures for reference.
premium leather Barcelona chair
Ludwig Mies van der Rohe's collection including the famous Barcelona Chair, Barcelona Table, Brno Chair and more. Yadea's Barcelona chair is 1:1 copy of original knoll Barcelona. Beautiful X shape stainless steel frame and the muscle like cushions just like the original.
since its introduction in 1956, the Lounge Chair is widely considered one of the most significant designs of the 20th century. - 7-ply laminated veneer in cherry, walnut or palisander. - The seat, backrest shells and armrests joined via aluminum. - Five-star swiveling base.
The Le Corbusier sofa set series was originally designed in 1928 for the Maison La Roche house in Paris. And this version is the LC2 armchair. Cushions covering in Italian leather; Polished stainless steel for the whole frame of the LC2 armchair; Bottom steel frame hooked up with well knitted nylon belts.
The Flat Bar Brno Chair was designed by German architect Ludwig Mies van der Rohe. It is one of the Europe's pioneering prototypes of modern architecture. Premium Grade Stainless Steel Frame; The base cross bar joints of the stainless steel frame have been ground, sanded and sealed. Solid Flat Bar Frame. CA-117 fire retardant High Density Highly Resilient Polyurethane cushions. The Replica Flat Bar Brno Chair, with its compact and incredibly comfortable design, makes for a lovely addition in any office or commercial setting.
The Womb Chair & Ottoman, designed in 1948 by Eero Saarinen, continues to be one of the most iconic and recognised representations of mid-century Scandinavian organic modernism. Our Saarinen Womb Chair replica constructed of foam over a molded, reinforced fiberglass shell. Flex angle- height adjustable floor protecting pad discs. Internal molded body bolt sleeves secure the metal frame. The entire chair is Hand Sewn/Stitched.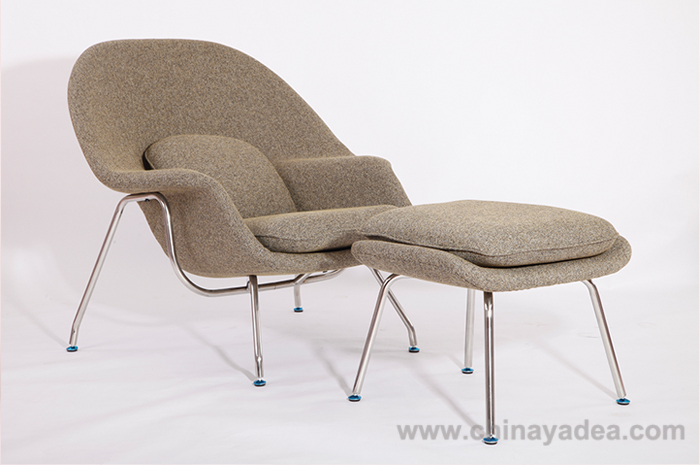 Florence Knoll Chair was designed by Florence Knoll in 1954. Our Florence Knoll Chair is a high quality reproduction in the style of the original Florence Knoll Chair, constructed with a traditional hardwood box frame; High polished #304 full length external stainless steel base frame; 100% genuine top grain Aniline Italian leather; Multi density foam seat and back cushions.
Welcome to visit our factory and showroom. More information pls visit www.chinayadea.com.
Keywords in the article:
2015 hotsale furniture,Barcelona chair,Eames lounge chair, LC2 sofa Brno chair Womb chair Knoll sofa
Information about ""